Bathrooms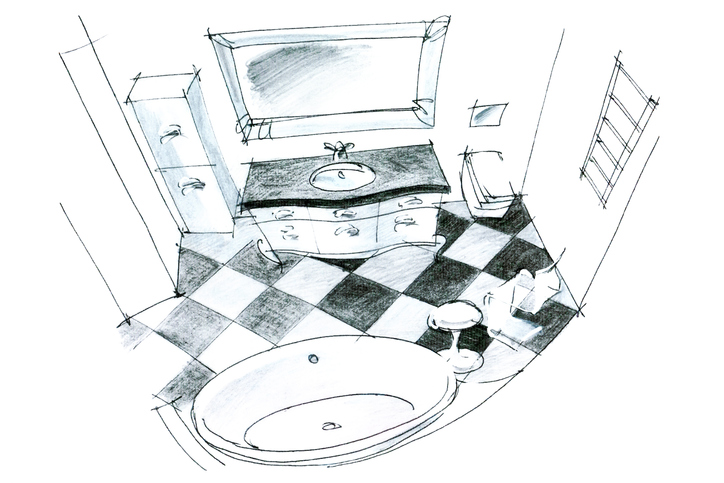 Metal wiring to hold soaps and other sundries allows the excess lather to run away and you can easily rinse them off.
Best magnifiers are optical glass at a 3x magnification; it is cleaner and more precise than 5x in regular mirror glass.
Soap Triple milled soaps are dense and last longer, holding their shape. Glycerin does not hold its shape or last as long.
Pick a palette that suggests an authentic, natural landscape. Soft shades of stone, bark, moss, heather, sand and linen attract light and keep a room airy and tranquil.
Sinks should be 33-36 inches from the floor to prevent stooping and/or bending. In high traffic areas look for a basin that is no less than 19-20 inches wide and 15-16 inches from front to back and 6 inches deep.
Towels high quality terry cloth will have a feathery surface when the ground cloth and individual loop are not detectable to touch. Velour is similar but cuts the loops to achieve a greater brushed sheen. Hemp is strong, durable, and naturally mildew resistant.


Low-twist weaves make towels soft and fluffy. High twist towels are dense and heavy.

Egyptian cotton grows on plants longer so has the longest fibres. All towels are measure in grams per square member (gsm). A good range is 500-1000 GSM.

Tiles tiled grids are the safest because the sanded grout provides traction. Diagonal grids make the room feel longer. Grids with white or light coloured tiles suggest depth. Grids with white or light coloured tiles suggest depth. Floor grids that are smaller than wall grids also amplify a room's height and width to make the floor appear wider.
How to Buy a Couch
What is your style?
First decide what the purpose of your couch is-will it be used by the whole family, be positioned in the hallway or merely as décor?
Don't follow new or unusual trends too closely. Rather look for a couch that has a timeless or traditional element to it. This will give not only the couch but the look of your home longevity.
What does the rest of you home look like? Will that purple couch suite you green curtains or blue carpet?
What fabric would you prefer?
What types of fabric do you like and what colour would suite your style?
Light–coloured fabrics look good but soil quickly and easily-thus are not advisable for families with pets and young children
If you do opt for a light fabric it may be advisable to choose removable covers which you can clean at your convenience. Multi–coloured fabrics hide stains, while solid colours show stains.
Leather is good for families with children as they handle spillage more readily
Ask to see a fabric sample-this will enable you to see and feel the fabric. In doing this you will be able to make an informed choice regarding your choice of couch.
Ensure that the fabric you purchase is from a recognised fabric house. This will ensure that you have the back up service and continuity. Continuity is helpful when accidents occur or when you want to make additions using the same fabric.
Is the piece of furniture going to be exposed to direct sunlight? If so ensure that you choose a fabric which is UV protected or Masterguard the fabric.
Is your choice of couch comfortable?
That couch may look stylish and beautiful-but is it comfortable to sit on?
Is the couch broad enough or perhaps too broad?
After sitting on the couch for a few minutes do you feel comfortable or is your sitting position awkward?
Perhaps an ottoman would be a nice accessory to accompany your couch-putting your feet up may add that extra element of comfort that you are looking for.
How strong or durable is the frame
A couch should last at least 10 years and good quality construction is essential.
Industrial Pine frames are viewed as the best quality. Avoid Crate Pine as it has more knots and is weaker.
Testing the quality of your couch is easy. Simply try to lift the couch – as a rule the heavier the couch the higher the quality of the frame. If the couch is light weight-it is likely that the frame is of inferior quality.
What choice of cushion do you prefer?
By sitting on the couch you will be able to feel the cushions-do they stay in place or do they sink or slide off uncomfortably?
A single seating plan may appeal to you as it enables a number of people to sit on the couch at one time. But, keep in mind that if you spill something on one half you will need to have the entire cushion cleaned-if you have two or more cushions you will only need to clean one if a spillage occurs.
Enquire as to what foam is used and what guarantees are available. Is the foam SABS approved? Foam makes up for a large portion of the cost of a couch and this is the area in which many manufacturers cut corners in order to save on costs.
How much do they cost?
Couches vary in price from as little as R 3000 all the way up to R 25,000 or more depending on the quality, style and size of the piece.
Work toward a budget-a qualified Casarredo consultant will be able to assist you in purchasing a couch which suites both your needs and your pocket.
Why do couches that appear to be the same sell for different prices, you may ask yourself? Take a careful look at the couch-it make look the same but beware of the following shortcuts:
Lower grade or thinner foam
Crate Pine and Chipboard may be used as opposed to Industrial Pine.
Inferior fabric
Substandard upholstery
Just to let you know, this page was last updated Monday, Dec 04 23