Content Marketing
"Content is just content, unless its driving behaviour change in customers and prospects. Then its called 'content marketing."
A content marketing strategy comes before your social media strategy. Content is what powers the connection with your customers. Social media does not work without valuable, consistent and compelling information creation and distribution. Content helps your placement in search engines.

Make mobile your top channel strategy; repurpose all your content; develop professional editorial practices; make your reader the number one priority.
Content Marketing vs Traditional Marketing
Focuses on the customer, not the company.
Pulls the customers in with relevant content, not a one size fits all solution. Creates a two-way conversation, not a monologue because it is dynamic and easy to change.
There are fewer risks and longer shelf life.
Provides proof marketing is working and is easier to measure results.
Maximizes word-of-mouth referrals.
Happens before and after a sale.
'sell by not selling' - content fosters trust
Content marketing strategy and plan need to be a personal statement that combines business objectives with the informational needs of your audience.
Six Principles
Fill a need
Be consistent
Be human; Have a point of view
Avoid sales speak
Be the best of your breed
Become part of the content fabric for your customers
To be successful in content marketing, you need to develop the absolute best information in your industry.
Business goals of content marketing
brand awareness or reinforcement
lead conversion and nurturing
customer conversion
customer service (and loyalty and retention)
customer upset
passionate subscribers
You are not the target for your content.

Engagement cycle: a combination of the intense sales process and the customers' buying cycle.
Process the audience goes through as you help them engage with your brand.
Sales funnel process:
contacts > leads > qualified opportunity > finalists > verbal agreement

Define your content niche: on what topic can you be the leading expert in the world?
if your content is gone, would anyone miss it?
become a trusted expert
focus on your niche with the most valuable portion of your audience

The mission statement should consist of
core audience target + material delivered to audience + outcome for the audience

Your mission statement should guide your content strategy. Decided on what content to create by comparing it to your mission statement.

Editorial Calendar
a prioritized list of what you are publishing based on your content strategy. Assigned content producer(s) and/or editors responsible for content channel(s) for the content.
Metadata (tags to track what your's working on and its role in the content strategy).
Dates for creation and publishing.
Make sure you create and follow an editorial style guide (tone, voice and branding guidelines)

Before you can determine what content you need, you should do a content audit. Content inventory consists of the following:  unique id, page title, web address, document type, R.O.T (redundant, outdated, or tired), notes

SEO: make a list of keywords
Focus on a search phrase.
Is it relevant?
How are you already ranking for the phrase?
how much traffic do you receive for the phrase?
are you getting traffic for similar words?
is the phrase already converting?
are there calls to action on the page?
are there related pages to support an internal link strategy?
how does the phrase fit in your future content?
is the phrase in the domain name?
Are you commenting on other people's blogs?
Ask Yourself
A year from now, what is different?
Measure behaviour that matters to your business.

Primary indicators:
converted leads per week/month/quarter
total cost per converted lead

Secondary indicators:
email list subscribers vs goals
the total number leads by week/month/quarter
incremental leads from new content
lead source
Further Reading
Content is Currency - Jon Weubben (2012)Get Content Get
Customers - Joe Pulizzi and
Newt BarrettZero Moment of Truth
(Google) Fascinate - Sally Hogshead (2010)
Bibliographical Information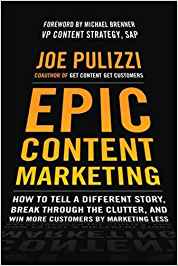 Epic Content Marketing
by Joe Pulizzi, ISBN 978-07-181989-3
2014: McGraw Hill Education, Toronto.
These are notes I made after reading this book. See more book notes
Just to let you know, this page was last updated Monday, Dec 04 23