CDL - critical day length. The day length at which determines whether a cultivar forms tubers.
Good for Baking
Bake King
Calwhite
La Ratte
Red Norland
Warba
Others to try:
Sebago, Reba (good for baking, boiling, and chips),
Eramosa,
Banana (good for boiling),
Yellow Fin
Successful potato storage:
Cure at 10-16C for 10-14 days. Then lower the temperature to 4C.
Maintain high humidity and allow for air movement in the pile. Slotted crates work well.
Plant potatoes in troughes (2-4 inches deep and 12 inches wide) and then hill. Copper can help control plant diseases like late blight.
Potatoes that are good for making chips:
Andover
Atlantic
Caribe
Desiree
Kennebec
La Chipper
Ranger Russet
Red Thumb
Superior
Shepody
Bibliographical Information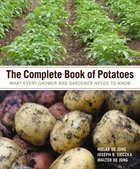 by Hielke de Jong, Joseph Siezka, Walter de Jong
2011, Timberland Press, Portland Oregon
ISBN 978-0-88192-999-7
These are notes I made about gardening. See more gardening notes