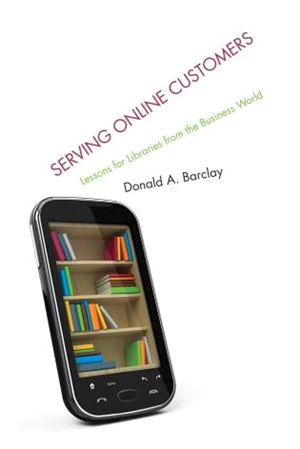 Serving Online Customers: Lessons for Libraries from the Business World
by Donald A. Barclay
2014: London, Rowman & Littlefield
Abstract
Ch 7 Designing Websites Trust and Flow
He suggests all library websites will ultimately contain the same stuff.
tasteful logo graphic

assorted photographs

box to search the library catalogue

contact us

hours

news and events

FAQs

My Account
Libraries need to learn about trust from commerce sites. Trust's first cousins are power and authority. Moving to an online world can lower your trust-building attributes. There is always a period of uncertainty where your lack of information makes you dependent on the website as a guide.
Great text about being an early web person.
"I speculate that this, my introduction to the World Wide Web, took place sometime in late 1993 or early 1994... Whatever the exact date, I knew I wanted in on this new thing right away." p. 143
Discusses the idea of using common terminology across library websites (borrowing vs circulation)
'sticky content' chat rooms, games, online forums, news, customer reviews, entertainment, exclusives, discount offers, contests, prizes to keep visitors on the site as long as possible and make them return
You want to encourage flow. To help visitors achieve flow you need 
clear progress and goals

instantaneous feedback

the balance between difficult and ability
These are notes I made after reading this book. See more book notes
Just to let you know, this page was last updated Monday, Dec 04 23