Web site Review Checklist
Process
The site organization has been tested with users.
Clients have reviewed the architecture for completeness and appropriateness.
The site organization has been finalized and documented.
A site maintenance plan is documented.
All content has been acquired or planned for.
Site logs and search logs have been reviewed for possible refinements.
Overall
The architecture matches overall site requirements.
The architecture makes sense at a glance.
Coverage
No relevant content is missing.
No unnecessary pages can be removed.
The site has all necessary pieces, e.g.,
Home
About/Introduction/Overview
Contact/Feedback Forms
Site Map/Site Index/Table of Contents
Help/Frequently Asked Questions
Search
Error Pages
Privacy Policy/Copyright Policy
Task Analysis
All important tasks and user types are supported.
Common tasks flow along a natural and short sequence of pages.
Important tasks are achievable in one section of the site, or appropriately cross-linked.
Organization
The site is relatively broad and shallow, no deeper than 3 levels, no broader than
about 16 options.
Categories are placed at the right depth. Based on importance, no categories need
to be promoted or demoted.
Important options come first.
Related options are grouped.
The organization is flexible. Sections can be added and deleted without major
reorganization.
Categorization
Categories divide up the space sensibly.
Each category has comprehensive coverage.
All topics are in the correct category.
Orientation and Labeling
Pages are clearly identified and explained, with clear page titles and good descriptions.
Landmark pages are sufficiently distinct.
Labels are clear, meaningful, and appropriate to their target content.
Labels are consistent in specificity, tone, and usage.
Link labels provide the scent of all subcategories.
Scope notes are provided when useful.
Users can gauge their progress through the information.
Links
The link to the home page is explicitly indicated.
External links are chosen with restraint, appropriate, and regularly maintained.
Page links are minimal and clearly labeled.
There are no dead-end pages—those without any outgoing links.
Navigation Bar
The navbar indicates where the user is currently located.
The user can see how the current page is positioned within the whole site.
The hierarchy is clear. The user can determine which options are at the top level
versus a sublevel.
Text navigation is provided for users who are not viewing images.
Navigation is at the top and the bottom of long pages.
The user can quickly review all options without scrolling or rolling over the options.
Search
Users can choose to either browse or search (though search may not be needed on
small or very well structured sites).
The scope of the search is clear.
Search tips are provided, especially after too few or too many results are found.
Search results indicate the number of matches and the total records or documents.
Search results are comprehensive, precise, and relevant.
Search results are ordered usefully.
Search results provide the context and/or description of each match.
Search results are categorized when there are a large number of matches.
The search query is repeated in the results, and users can easily refine searches.
Common queries produce good results.
The search is robust with regard to misspellings, alternate spellings, synonyms,
plurality, and prefixes and suffixes.
 Layout
Simplicity, consistency, and focus.
Contrast, balance, and repetition.
Proximity, similarity, and good continuation.
Critical elements stand out.
Critical information appears toward top left of the page.
Works for printing and at a variety of window sizes (e.g., 520 pixel
maximum width of your design).
Provides appropriate focal point, emphasis, and hierarchy of information.
Background Image
Can be compressed to a reasonable size.
Aligns with the foreground images.
Will tile appropriately.
Navigation
Navigation is scalable.
The most complex page can be developed using this framework.
Proper page titles and link labels have been used.
Text/Fonts
The typeface matches the page style.
The number of typefaces is limited.
The use of typefaces, weights, and emphasis is limited.
HTML text is aliased (jaggy) and presented in the expected font.
Font size is flexible.
Text links are underlined.
Text links are different colors for visited and unvisited links.
Body text, titles, and labels are legible.
Images
A consistent light source is used.
The compression of the mockup does not lose too much visual quality.
The images are used to support the content of the page.
Color
Color is used appropriately (e.g., for grouping, pop-out effects, and so forth).
Color is appropriate for dark, light, and grayscale monitor settings.
Contrast is appropriate for dark, light, and grayscale monitor settings.
Client Requirements
Required logos, fonts, and colors are included in the mockup.
Page titles, button labels, and link names are accurate.
Appropriate identifying images and marks are included.
The client address is correct.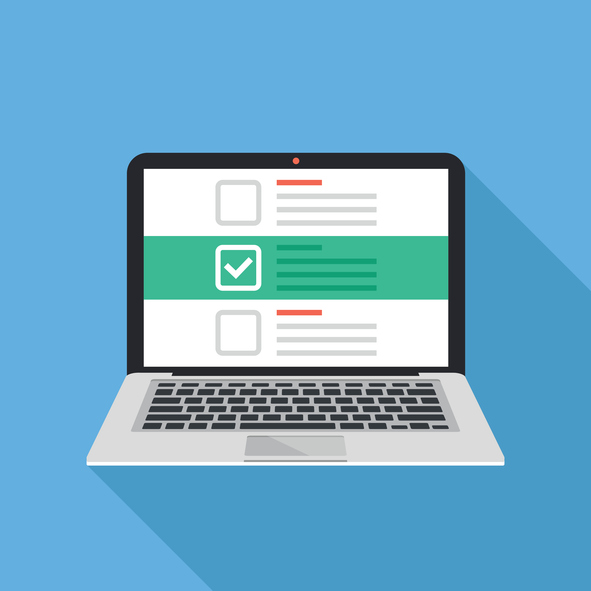 Pre-Launch Checklist
Typography and layout
Check for incorrect punctuation marks, particularly apostrophes, quotation marks and hyphens/dashes
Check for widow/orphan terms in important paragraphs
Spelling and grammar
Consistency
Check for widow/orphan terms in important paragraphs
Capitalization (especially of main headings)
Is all the writing in the same tense/style
Recurring/common phrases (e.g. 'More about X' links)
Is there consistent use of variations in words (e.g. Websites vs. Web Sites, or UK vs. US spelling)
Treatment of bulleted lists (e.g. periods or commas at end of each item)
Ensure no test content on site
Check how important pages (e.g. content items) print
Check all 'Hidden Copy' (e.g. alt text, transcriptions, text in JavaScript functions)
Search Engine Visibility, SEO and Metrics
Page Titles are important; ensure they make sense and have relevant keywords in them.
Check for target keyword usage in general content
Check format (user/search engine friendliness) of URLs
Set up Analytics, FeedBurner, and any other packages for measuring ongoing success
Create an XML Sitemap
Configure Google Webmaster Console and Yahoo! Site Explorer
Functional Testing
Check all bespoke/complex functionality
Check search functionality (including relevance of results)
Check on common variations of browser (Internet Explorer, Firefox, Safari, Chrome etc.), version (6, 7, 2.2, 3.1 etc.) and platform (Windows, OSX, Linux)
Check on common variations of Screen Resolution
Test all forms (e.g. contact us, blog comments), including anti-spam features, response emails/text, etc.
Test without JavaScript, Flash, and other plug-ins
Check all external links are valid
Check analytics for problems, popular pages etc. and adjust as necessary
Security Checklist
Configure backup schedule, and test recovery from backup.
Protect any sensitive pages (e.g. administration area)
Use robots.txt where necessary
Security/Penetration test
Turn-off verbose error reporting
Check disk space/capacity
Set-up email/SMS monitoring/alerts (e.g. for errors, server warnings); consider internal and external monitoring services
Performance Load test
Check image optimization
Check and implement caching where necessary
Check total page size/download time
Minify/compress static (JavaScript/HTML/CSS) files
Optimize your CSS: use short image paths; make full-use 'cascading' nature of CSS, etc.
Check correct database indexing
Check configuration at every level (Web server, Database, any other software e.g. Content Management System)
Configure server-based logging/measurement tools (e.g. database/web server logging)
Finishing Touches
Create custom 404/error pages
Create a favicon
Submit to search engines
Just to let you know, this page was last updated Monday, Dec 04 23