Never go to a meeting without an agenda
Design an agenda for an effective meeting
seek input from team members-select relevant topics
list agenda topics as questions the team needs to answer
is the purpose of the topic to share information, seek input for a decision, or make a decision.
estimate a realistic amopunt of time for each topic
propose a process for adressing each agenda item
specify how people should prepare
identify responsibility for leading each topic-first topic is 'review + modify agenda as needed'
end the meeting with a plus delta evaluation

what did we do well?
What do we do different next meeting?
Book to Read:
Smart leaders, smarter teams - Roger Schwarz
A Meeting has 3 purposes
1.inform and bring people up to speed
2.seek input from people
3.Ask for approval
Schedule shporter meetings-go quicker as people have to prepare:
set timer for each part of the meeting
Invite no more than 8 people if u need a decisionbrainstorm up to 18
updates/recive info up to 8
Before a meeting, tell your team that silence = agreement
Meeting Prep Checklist
Have you ...
Identified the specific purpose of the meeting?
Made sure you need a meeting at all?
Developed a preliminary agenda?
Seleted the right participants?
Assigned roles to participants?
Decided where and when to t hold the meeting and confirmed availability of the space?
Sent the invitation, notifying participants when and where the meeting will be held?
Send the preliminary agenda to key participants and other stakeholders?
Sent any reports or items needing advance prepartion to participants?
Followed up with invitees in person, if appropriate?
Identified, if appropriate, the decision-making process that will be used in the meeting?
Identified, arranged for, and tested any required equipment?
Finalized the agenda and distributed it to all participatns?
Verified that all key particpants will attend and know their roles?
Prepared yourself?
Stuck in a terrible meeting
be brave,
play dumb,
be a helper and take notes
Find a root cause of meeting's lack of focus and sugest a solution.
Today is backwards day. We'll follow our agenda—backwards. We'll start with the action steps, move to the discussion, and then on to the reports.
Making Every Meeting Matter
use the word Jellfish to identify when meeting is drifting off topic
refocus a meeting after someone inturrupts
polite ways to decline a meeting

What is the value of the meeting?
am I the right person to attend?
is meeting a priority for me?
can I stop the meeting - can I recommend someone else?
can I contribute in advance
can I attend only part?
How to interject
have we thought about...
did anyone mention...
another option we may want to consider is...
is it worth revisiting...
Disagre, be blunt. be cagey. be productive.
Always end meeting by
confirm key disscusons + next steps
develop communication
gather session feedback
Virtual Meetings
turn on video for visual cues
cut of status updates
encourage collabrative problem solving
give each person time on the agenda
kill mute
ban multitasking
check in
assign a Yoda - keeps everyone inline
Bibliographical Information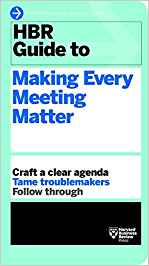 Harvard Business Review: Guide to Making Every Meeting matter
2016: Harvard Business Review
IBSN 978-16-33692176
These are notes I made after reading this book. See more book notes
Just to let you know, this page was last updated Monday, Mar 08 21