I really enjoyed the variety of vegetables discussed in this book. The photos were beautiful and the notes on each plant were helpful.
Here are something vegetables I would like to try growing.
Cousa. A summer squash with thin pale green, speckled skin and an oblong, almost oval shape. 50 days to maturity.
Yard long beans. 'Liana' are the earliest maturing and reliable varieites, 75 days. 'Orient Wonder' is a 70 day plant tolerante of heat and cold temperatures. Note you can also eat the shoots and young leaves. They do not like cold soil.
Edamame Beans. 'Envy' (75-80 days) good for northern climate as is 'Shirofumi' (90-95 days), which is extremely productive. Another variety to try is 'Midori Giant', 80-90 days. Pods mature in the short period of 10 -14 days so plan tin succession. Overmature pods are yellow and taste starchy.
Other beans. 'Tonello' (70 days) are a pole bean with flat green pods maturing to a soft yellow. 'Jimenez' (80 days) are streaked with red and 'Golden Sunshine; (80 days) are a type of runner bean that are reliable in cool, wet climates. 'Tongues of Fire' (65 days) are also a tasty snap bean to try.
Interesting that she mentions that Homecrocallis fulva (orange Daylily) - the flower buds and tender tubers are edible.
Peas
'King Tut' is a pea with electric-blue blossoms. 70 days. 'Tom Thumb' is a compact cold-season crop. 'Magnolia Blossom' (80 days) is a sugar snap that are green with a distinctive purple strip down the side. The hypertendrils are also tasty. To grow a pea for eating the tasty tendrils, leaves, and stems, try 'Petite Snap-Greens' (30 days). Grow to 3 feet tall and then cut above the first node to encourage subsequent harvests. 'Sugar Magnolia' is a purple-podded sugar snap (70 days).
Mizuna Brassica rapa subsp. nipposinica does well in cold weather and hot temperatures. It is a member of the cabbage family and can be grown with annuals in a pot.
Mustards. 'Golden Frills' and 'Ruby Streaks' are good choices. Harvest as baby greens, when the leaves are 2-4 inches long.
Celtuce (aka stem lettuce). A cross between celery and lettuce is something I should try growing. Grows in most soils, even tolerating clay. Germinates best in cool temperatures (15 Celsius). 45 days for greens and 90 days for stems.
Tokyo Bekana is a loose-headed Chinese cabbage. Begin picking 3 weeks after seeding. Entire plants can be sliced off at soil level; leaving a 2 inch stuf to regrow.
Beets. 'Red Crapaudine' have a rich flavour and firm texture. The roots are neither uniform nor comely but their roots are neither woody or stringy.
Bibliographical Information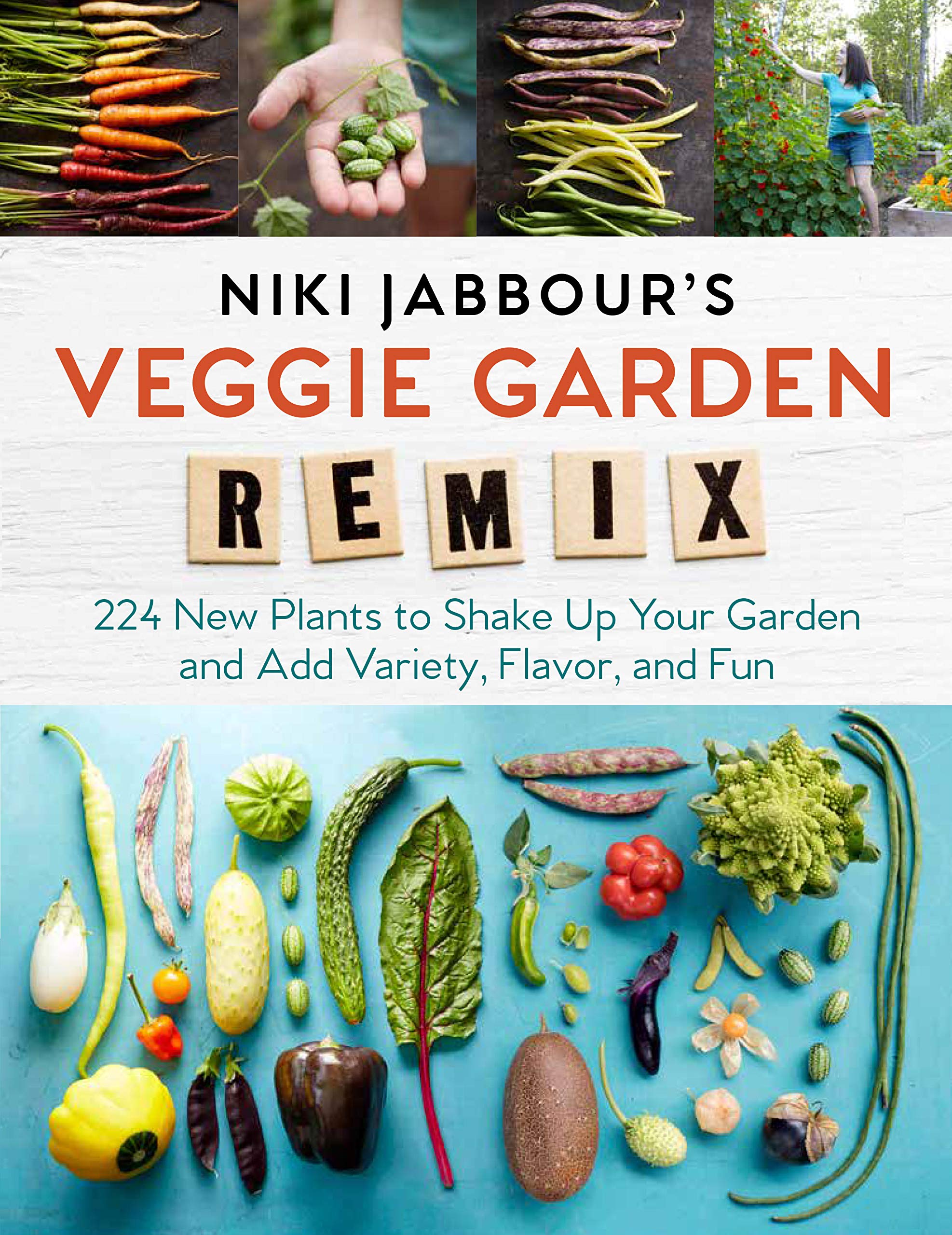 Veggie Garden Remix: 224 New PLants to Shake Up Your Gardena nd Add Variet, Flavour, and Fun
by Niki Jabbour
ISBN 978-1-61212-670-8
2018, Storey Publishing, North Adams, MA.
These are notes I made while reading gardening books. See more gardening book notes