I love gardening!
We have a huge vegetable garden in our yard and every year we grow a wide range of fruits and vegetables.
The remainder of the yard is slowing being converted to a flower garden. My secret goal is get rid of most of the lawn.
I love to plant California Poppies and grow different varieties of Thyme.
In 2015, I added the following plants:
Juncus spiralis, water sedge
Liatris spicata Floristan Violet (Blazing Star)
'Snowflake' Moss Phlox
Six Hills Giant Catmint
John Cabot Hardy Rose
'Red Heart' Hens and Chicks Sempervivum Hybrid
Alpine strawberry
Viola, Sorbet Mix
Forget Me Nots
Pinata Mix Sweet Peas and Jet Set Mix Sweet Peas (Dwarf variety)
Zebra Iris
We grew a Citronella plant - it makes awesome mosquito repellent.
Orange Symphony Osteopermum
Peachleaf Bellflower
Bingo Yellow with Blotch Pansies
Geranium sanguineum 'Max Frei'
'Butterfly Kisses' Coneflower
'Tiny Rubies' Dianthus
Silver Nettle Vine
Rudbeckia, Indian Summer
'Arizona Sun' Gaillardia
Columbine Ancolie, McKana Giant Hybrids
Catnip
Herbs
Blue Borage
Orange Scented Thyme
Nutmeg thyme
More Woolly Thyme
Red creeping Thyme
Doone Valley Thyme
Lemon scented Thyme
White Moss Thyme
Tabor Thyme
Elfin Thyme
'Strawberry' Mint, Mentha piperita
Peppermint
English mint
'Grapefruit' Mint
Fruit Cocktail Mint
Applemint
Vegetable Garden
'Redstart' Pepper, Capiscum annuum
Modern Early Cucumber
Sweet yellow corn
Leeks
Oh-So-Sweet Corn
Parris Island Cos Lettuce (West Coast Seed)
Paris Cos Lettuc
Extra Triple Curled Parsley
Scarlet Nantes Carrots
Little Finger Carrots
Purple Vienna Kohl rabi
Sugar Dady Snap Peas (West Coast Seeds)
Sugar Snap Peas (McKenzie Seeds)
I also added Blue Fescue grass, we shall see how it appears in 2016.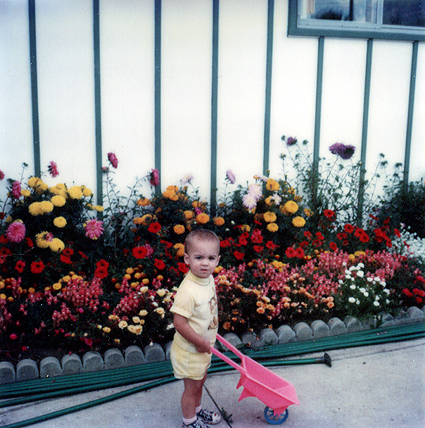 In 2014, I added the following plants:
True Blue Pansies
Burning Bush
tenderlong imperator carrots
Double Delight Raspberry
Delosperma Hybrid 'Jewel of Desert Arnet' Ice Plant
Echinacea purpurea PowWow Wild Berry coneflower
Elfin thyme
Jersey Giant Asparagus
Lilium longiflorium; easter lily
In 2013, we grew:
Sugar snap peas
Brussel sprouts
Tomatoes - of course
millions of sunflowers
corn
potatoes
yellow wax beans
scarlet runner beans
cucumbers
lettuce
beets
strawberries
raspberries
rhubarb
zucchinni
giant purple flowering onions
celery - green and red
dill - it just appears on its own
woolly thyme, french thyme, pink flowering thyme, and silver lemon thyme
sorrel, rosemarry, hyssop, chives (garlic and onion), red onions, and green onions
Mexican sour gherkins
Anise Hyssop
Orange mint
Angelica
scented geraniums
Thai Basil
Lavendar
Sweet Basil
Marigolds
Geraniums
In 2012, we grew:
Henry Hudson Rose (White)
Asiatic Lily - ORange Pixie zone 2
Perennial Sage Salvia nemorosa
Fiedlio Gladiolus
Bluecrop Blueberry Zone 3 3' x 3'
Modern Sunrise Rose Zone3 pink/yellow
Golden Elderberry Zone 3 8-10' tall
Madame de PAris Gladiols 8-12' tall
Sedum reflexum 'Angelina' xone 3 full sun - on hill
Cobweb Hens & Chicks Sempervivum arachnoideum
Northland Blueberry zone3 (cdn tire)
Dragon's Blood Stonecrop Sedum spurium 'Roseum'
Georgia Blue Veronica zone 4 sun/part shade
Northcountry Blueberry Zone 4 full sun - part shade 2.5' x 3'
Beaked Hazelnut Zone3 full sun to part shade size 2m high 1.5 - 2m wide
In 2011, we grew:
Sugar snap peas
lettuce: buttercrunch, early smpso, spinach, black seeded simpson
Incas F1 Roma
Sungold F1
Rosie O'Day Alyssum
Watermelon Sugar Baby
Tristar strawberries
Clematis Crystal Fountain
Kiwis
Plants that I added in the yard:
Golden Rod Solidago Super zone2 height 28
Hardy Chrysanthemum Robinson's Rose Painted Daisy
Vaccinium Chippewa Blueberry zone3 Full sun
Creeping Thyme Thymus serpyllum 'Pink Chintz' zone 2-9
Little Lanterns Columbine Aquilegia canadensiszone3 part shade / shade
Strawberry Ft Laramie Everbearing
Georgia blue Speedwell
Purplelead sandcherry
Coral Carpet Stonecrop
Twister Juncus Jonc epars
Blanket Flower Gaillardia grandiflora arizona sun
Sedum spurium 'Summer Glory' two row stonecrop zone3
Asclepias Tuberosa Butterfly flower zone 3
Eryngium white glitter (thistle)
Gold Drop Potentilla zone 2
Obediant plant Physolegia virginiana 'Summer Snow' zone2
Achillea Strawberry Seduction zone4
Blue Beech Carpinus carliniana zone3
Chrysanthemum morifolium 'Jefsun' suncatcher
Mesabi Cherry Prunus 'Mesabi' zone4 full sun height 10-14'
Lilium 'Crimson Pixie' zone2
Gaillardia 'Arizona Red Shades' hardy to -40F
Chives Allium schoenoprasum
Bridal Wreath Spirea Spirea vanhouttei hardy to -40
Sagina subulata syn Arenaria caespitosa, Minuartia verna caespitosa Pearlwort
Bowles Black Viola viola cornuta
Hen and chicks sempervivum hybrd
Perennial Veronica spicata 'Icicle' zone4
Echinacea purpurea Purity
Artemisia 'Nan' silvermound
Rock soapwort saponaria ocymoides
Lilium 'Peetite Brigite' zone3
Vauvasian Bellflower Campanula bellidifloia
Silver 'Argenteus Thymus thymus vulgaris argenteus
Creeping doone Valley thyme
Upright english thyme
Melting fire Coral ells Heuchera hybrid
Creeping red thyme Thymus coccinea
Eryngium Blue Glitter'
Campanula persicifolia 'alba' bellflower
In 2017/18, I added the following:
Little Gem Pearl Lettuce
Falling in Love Poppy
Kohlrabi
Mini Munch Cucumber
Prizehead Lettuce
Catnip
Early White Vienna Kohl Rabi
Forget me Not
Elder Lemony Lace
Cedar Evergreens
Really Red Geranium
Lobelia Trailing
Pansy
Snowflake Creeping Phlox
Dickson Gold
Organic Tomato Seed
Roma VF Tomato
Marigold Perfection Orange
Magic Carpet Creeping Thyme
Dward Yarrow
Herb Golden Thyme
Pink Chintz
Sow Easy Lettuce
Red Russian Kale
San Marazano Lampadina Tomatoes
Scarlet Runner Bean
Baby Belle Peppers
Cornichon
Leptinella Squalida
Everbearing Strawberries
Herb Golden Thyme
Lemon Scented Geranium
These are notes I made about gardening. See more gardening notes