Bibliographic Information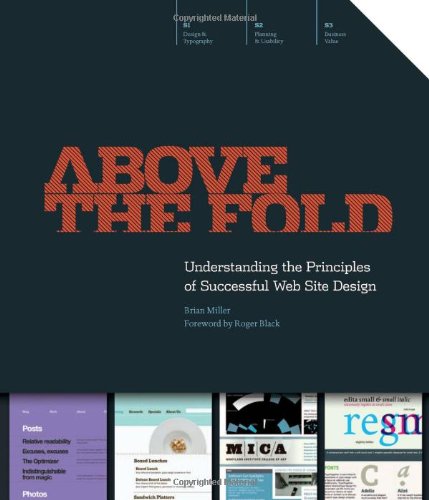 Above the Fold: Understanding the Principles of Successful Web Site Design
Fraser Direct, Georgetown, Ontario, Canada
2011
978-1-4403-0842-0
Abstract
pg 15 - "Limiting subjective decisions and being creative within those limitations is the essence of what all designers do."
p 24 - : Designing the experience that's right for the target customers is critical to being a successful Web Designer."
p 42 "Breaks in the content allow users to scan the layout quickly and give them multiple entry points into the page
p 60,61 good visuals
p 162 - "Wireframes are blueprints that map out individual pages of a site. They show the elements of a page and their relative weight or importance."
p 168 - "Prototypes are working models of site functionality that help a developer work out the final details and provide proof of concept."
Concept Design
Final pre-design step to create mood board.
p 206 - "It's essential to select keywords based on the customer's point of view - not necessarily the client's internal vernacular."
p 250 - "In the case of Web design, very often progress is more important than perfection."
These are notes I made after reading this book. See more book notes
Just to let you know, this page was last updated Monday, Dec 04 23