Homemade Medicines and Tonics
Lots of recipes for homemade medicines and tonics. Lots with elderberry.
Ear oil,
Cold & Flu Tea
1 zo elderflowers
1 oz peppermint leaves
1 oz yarrow flowers
Mix the ingredients thoroughly. Make tea using 2-3 tsp per mug of boiling water, infused for 5 minutes.
Homemade Tiger Balm
Just under 1/2 cup hemp oil
1 tbsp grated or small pieces beeswax
Essential oils
100 drops/1 tsp peppermint
60 drops/1/2 tsp camphor oil
80 drops/2/3 tsp wintergreen
60 drops/1/2 tsp lavender
60 drops/1/2 tsp eucalyptus
Makes 1/2 cup, keeps 6-12 months
Gently melt the hemp oil and beeswax in a double boiler or water bath. Let cool for 5 minutes, then add the essential oils.
Stir well and pour the balm into a jar.
Keep away from eyes.
cats like Valerian, mix with catnip
Bibliographic Information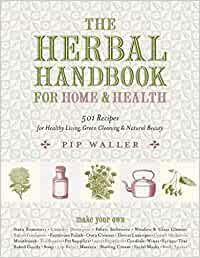 The Herbal Handbook for Home & Health
by Pip Waller, ISBN 978-1-58394-892-7
2015, North Atlantic Books, Berkely California
These are notes I made after reading this book. See more book notes
Just to let you know, this page was last updated Monday, Dec 04 23