Colours and Their Meaning
Blue:
trust, loyalty, honesty
one colour most free of cultural bias worldwide
not good colour for food as it is perceived as inedible
dominates seascapes but rarely seen in landscapes
Red
strongest colour that signfies danger, passion, power, lust, energy, excitment and love
favored colour for Chinese as it keeps evil away and means long life
active, competitive, daring, aggressive, and impatient
Purple
leadership, respect, weath, passion, magic, mysticism, mystery, ceativity, ideas
hardest colour to mix
light purple is fun and casual - suggesting springtime
dark purple is heavy and can be overpowering
Yellow
bright, gets attention - used for warnings
warm, playful, happy, inviting and stimulating
can indicate sickness
Orange
strong personality, confident, creative, adventurous, cheerful
grabs your attention
warmth, fire and flames, adventure, excitment
orange has the power of red but is less intense
Green
newness, regeneration life, growth, health
energy, faith, money (not universal)
most restful colour to the human eye
contentment, harmony, freshness, caring, moral and sensitive
Brown
sustenance, smplificy, comfort, quality
credibility, neatural, stability, harmony, renewal, history
Pink
most often used in confectionary
passion and purity, romance
Black
strength, determination, power, formailty
top of the line, class, mysterious
few logos are basic black
suggests evil and darkness
Grey
really classy, corporate
like black but less bold
Source: Blue is Hot, Red is Cool: Choosing the Right Colour for Your Logo by David Carter (2001)
Cohesive Colour Schemes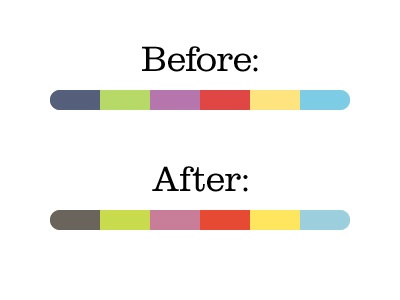 Colour
Colour in Web Design
Source:Sitepoint article 'Essential colour checklists for Web design' by Marta Eleniak (april 28, 2003) http://www.sitepoint.com/print/1126
The main ingredient for legibility is contrast. You can test your legibility by converting your site to monochrome. Use strong contrast between the background colour and the text colour.
If you need to show a pattern, place it in the center because our eyes work harder to take in patterns on the periphery.
Important information to the user does not rely on colour alone.
Avoid using too many colours at the same time, it creates a confusing overall effect.
Black text on a white background is best.
Red and green are best used in the centre of the screen and black, white, yellow and blue are best used on the periphery
Brighter colours are better by interfaces that will be viewed for a long period of time or if designed for older users.
If you want colours to be easily distinguished from each other, use darker shades of blue, red, and purple and paler shades of green, yellow and orange.
Colours do not mean the same thing to different people.
To convey low prices use brighter colours such a yellow
Beige, blue, burgundy, and dark green give the impression of high quality, solidity and tradition.
Do Not
Do not use red and green where you need to distinguish between them to understand the content.
Do not use blue and yellow together when you need to distinguish between them to understand the content.
Do not use grey text
Do not use different blues simultaneously
Do not use fluorescent colours.
Do not pair extremes of wavelength (opposite ends of colour chart) like red and blue as it induces headaches
Do not use high chroma colours together like blue and yellow
Colour Tips
Red in product design suggests competition so leads to haggling, lower bids, or increased bids if a limitation is in place (i.e. limited quantity).
The correct yellow is important. Avoid yellow clothing - unattractive.
Yellow lures people to your door. Yellow lures them along - spend less time. Does this work for a checkout?
Eating more carotenoids gives skin a healthy colour.
Blue/red paper avoid, use yellow (ex. sticky note) as it triggers thinking.
Green is a problem colour in vehicles. Yet exposure to green enhances creativity; go view some nature.
Even a brief and a small amount of green. Green increases intrinsic motivation. Be more creative - use green paper. Sustained exposure to greenery is good.
This page contains information I gathered and thought were very useful. See more notes on design.
Just to let you know, this page was last updated Monday, Dec 04 23